Upcoming Events in School
SPAR Lancashire School Games Active Mile November 23rd-November 27th 2020
On the 27th November the county will be celebrating Lancashire day, so as part of the celebration, the SPAR Lancashire School Games will be running an active mile campaign/challenge to get schools to complete a mile of activity between the 23rd-27th November, and we are also encouraging schools to encourage parents, carers, local residents etc. to take part also and represent their school.
Why?
Because every mile that is logged through this form;
https://www.smartsurvey.co.uk/s/BSFMQF/
both as a school and an individual will be worth 1 entry into a prize draw to
win £400 to improve PESSPA offer at the winning school
. The more people associated with the school (parents, alumni, carers etc.) that log a mile gives this school more entries into the prize draw.
We will also give out some amazon vouchers for people that use the #lancsgames21 on social media whilst completing the mile.
Times Table Rock Stars presents Maths Week England 9 - 14th November
Dear Parent/Carer,
As part of our commitment to make maths exciting and high profile in our school, this November we are taking part in a competition for Maths Week England. It's called Rock Out 2020 and it's all done online via play.ttrockstars.com.
For every correct answer to a multiplication or division question, your child will earn their class a point. The Times Tables Rock Stars platform will calculate the class average (the number of correct answers per pupil in the class who play during the competition hours). Winning classes in the school and in the country as a whole will be the ones with the highest average.
All game modes (Gig, Garage, Studio, etc.) will count but only from games played between 7.30am and 7.30pm on Monday 9th, Tuesday 10th, Wednesday 11th, Thursday 12th, Friday 13th and Saturday 14th.
In the spirit of the competition, please don't play on their behalf but by all means encourage and support them to the extent that it doesn't cause high stress levels or impact on family plans. We suggest a limit of half an hour a day outside school hours – some will play more, some will play less.
Thanks for your support,
Mrs Powley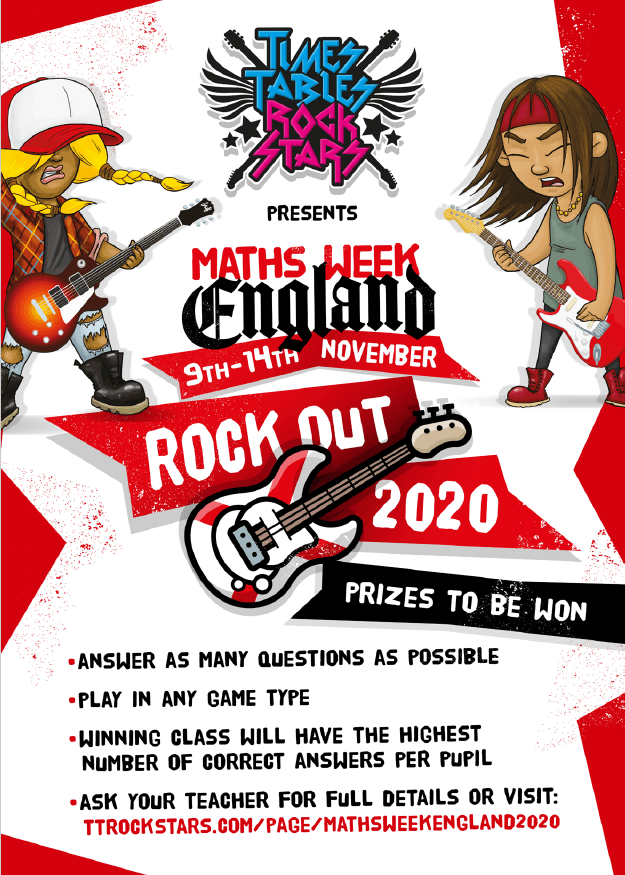 Vision Screening in Lancashire Schools
Vision Screening for all children in the Year 1 class will be taking place on Monday 12th October. You can read more about it in the document below. If you have a child in the Year 1 class and have not received a letter about Vision Screening, please contact the school.
Visual Screening in Lancashire Schools